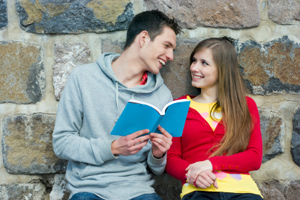 German Texts for Beginners
Here are some easy and engaging texts to practice and develop your German reading and comprehension skills. Written by experienced German language intitlestructors, these texts are specifically written to aid German students from the elementary and beginner A1 and A2 levels, as well as meeting the needs of the more advanced B1 and B2 level student.
Texts for beginners include simple sentences with basic vocabulary. More advanced texts feature complex sentences with relative and subordinate clauses and wider use of tenses. Our innovative teaching system clearly indicates the vocabulary level in each reading, making it very easy for any German student to choose appropriate texts for their needs.
Upon completing each reading you can test your comprehension by answering the accompanying questions. Every text is available as a printable PDF. They are ideal for German language students working on their own. They are also perfect for German teachers to use in class or as take-home exercises.
Reading: 125 more Texts
Listening: 66 more Texts